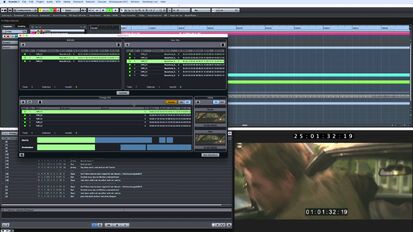 Nuendo is a music software product developed by Steinberg for music recording, arranging, editing and post-production. The package is aimed at Film & TV Post production and Game Audio market segments, but it also contains optional modules that can be used for multimedia creation and audio sequencing.[1][2]
Steinberg offers Grace Period updates to users who have purchased the product near the update launch date.
Features
Edit
Includes plugins Multipanner, Padshop, Amprack and Quadrafuzz v2
Mixing, Editing to Picture mode, Project merging, AAF file usage to exchange data with video and audio production systems, Plugin manager.
Automatic Dialog Recording (ADR)
Nuendo Expansion Kit (Music tools from Cubase)
Automatic dialog Recording
Edit
Spotting and recording dialog and foley for multiple roles, schenes and actors, can be done by using 32 marker tracks for spotting respective scenes.
Each of the markers is able to hold user definable attributes, eg. character name, scene and time.[3]
Nuendo Expansion Kit
Edit
Adds The Score Editor, that allows viewing the music in sheet form.
Chord Assistant, that helps creating chords that are in harmony.
Groove Agent SE 4 (+Acoustic Agent)
References
Edit